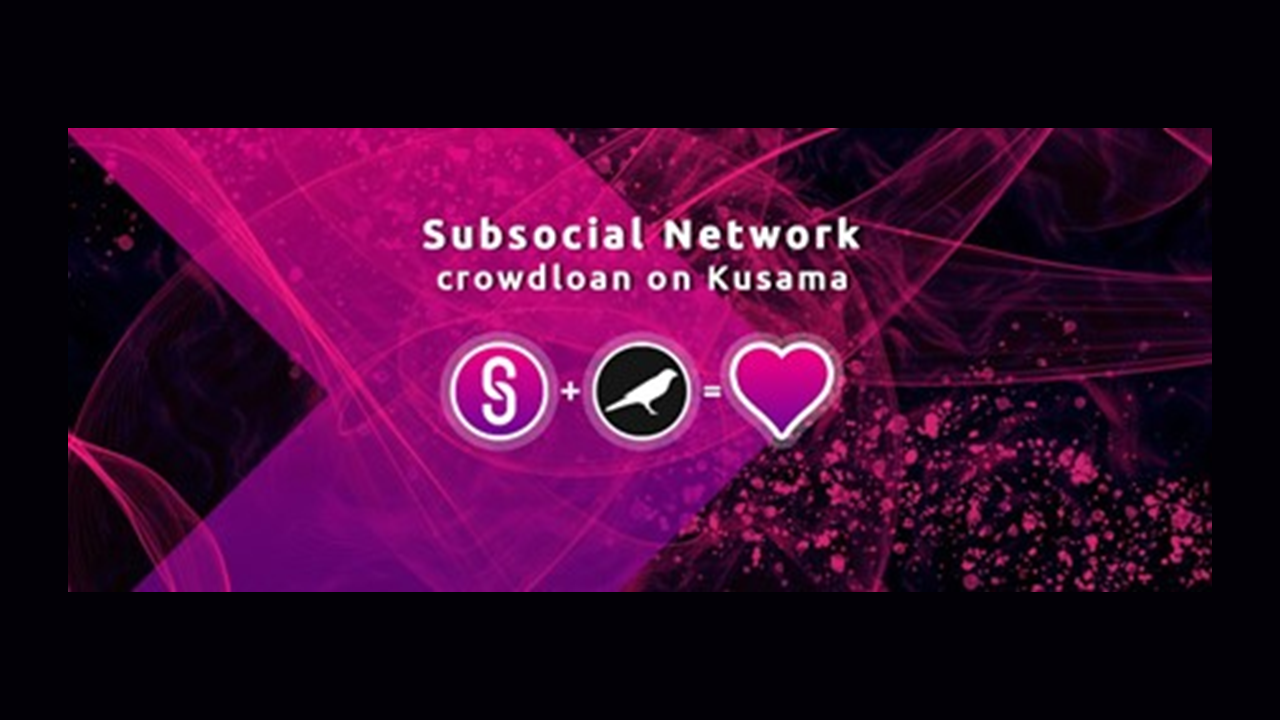 Subsocial Network is an open platform designed to support the creation of decentralized social networks and markets. It announced on November 11 that it will participate in the upcoming Kusama Parachain slot auction.
According to the announcement, Sub-society One of the competitive Kusama parachain slots will be bid to expand its ecosystem within the Dot and Kusama communities. Since then, the project invited Kusama (KSM) token holders to participate in its crowdfunding, and a total of 16.5 million (16.5% of the total supply) SUB tokens will be distributed as rewards.
The Kusama Parachain Slot Auction was launched in June 2021 and was a huge success. Karura (DEX based on Polkadot) won the first auction. Since then, a total of 11 projects have obtained Parachain slots through the program. Subsocial is looking to join this growing list and make itself the main social network building platform on Polkadot and Kusama.
The core of Subsocial is to use Web 3.0 to introduce decentralized social media and NFT markets. The infrastructure of the platform is built on Polkadot's underlying blockchain framework and IPFS technology stack to support decentralized file storage. Therefore, users can create decentralized and censorship-resistant social media platforms.
After bidding on the Parachain slot, if the project wins a slot, Subsocial's native token SUB will receive significant benefits. First, it is likely to be listed on popular DEXs in the Polkadot ecosystem including Karura.
In addition, crowdfunding participants who receive SUB tokens can start using them to monetize Subsocial's ecosystem opportunities. This native token allows Subsocial users to deploy their own anti-censorship chain and tip their favorite content creators, while supporting other built-in monetization options.
Subsocial's crowdfunding campaign
As mentioned earlier, Subsocial has allocated 16.5 million SUB tokens to reward KSM token holders who use their tokens for crowdfunding activities. Among them, 15 million SUB tokens will be distributed as participation rewards, while the remaining 1.5 million tokens will be distributed to the referral program and distributed in accordance with the stipulated terms.
The upper limit of crowdfunding is 100,000 KSM, which means that if the upper limit is reached, participants will receive 150 SUB tokens per KSM. However, if Subsocial wins the Parachain slot with a lower bid, the contributor will receive more than 150 SUB tokens per KSM. Assuming that Subsocial wins with a bid of 50,000 KSM, contributors will receive 300 SUB tokens for each KSM.
In addition to SUB token rewards, contributors of this crowd loan can also receive referral bonuses. Contributors will be assigned a unique recommendation code, enabling them to generate 15 SUBs for each KSM token contributed by their recommender; these rewards will be distributed between the recommender and the referee in a 50/50 ratio.
It is worth noting that according to the parachain slot lease, 80% of the SUB token rewards will have a vesting period of more than 48 weeks. At the same time, the remaining 20% ​​can be claimed after receipt. The initial unlocking of 20% of the SUB reward is expected to stimulate the use of the Subsocial network and its functions to a large extent.
Although the parachain slot auction bid is an important milestone, Subsocial has distributed more than 750,000 SUB tokens through the Dotsama Token Claim Program. The project will hold the fourth round of Dotsama token claims to reach the 1 million distribution target.