In sub-Saharan Africa, only 3% of the 48 million smallholder farmers Insured. Owning 1 acre of land, the daily income per person is about 1.40 US dollars. SmallholderSmallholder farmers usually have a mixture of cash crops and subsistence or non-commercial agriculture; moreover, they lack the capital and technical resources of large industrial farms. As climate change causes extreme weather events to become more frequent, a flood or drought will push these farmers into a vicious circle of poverty without the protection of crop insurance.
The following is an update from a researcher of the Ethereum Foundation Benson Newguna.
Benson's mission is to promote humanity from an economic perspective through technology-driven innovation.He is a business transformation expert Acres of africa, A microinsurance service provider based in Kenya.To learn more about Ethereum Foundation Scholarship Program, Read this blog post.
Obstacles for farmers: trust and affordability
Companies such as ACRE Africa support farmers by providing risk management solutions and agricultural insurance products to solve the unstable and uncertain livelihoods faced by farmers. One challenge in this area is that farmers have negative preconceptions about insurance providers due to a history of delayed or non-payment. Farmers are not accustomed to obtaining important information related to their policies-even simple information such as confirming whether they will receive damages.
In ACRE Africa, a typical smallholder with half an acre of land pays about $5 per season for weather index crop insurance (an insurance that pays out based on predetermined weather data such as rainfall). The damage caused by bad weather conditions resulted in an expenditure of about US$50, which was enough to pay for farm inputs such as seeds and fertilizers.
For the insurance business, such low premiums mean that scale is needed to achieve a balance of payments, let alone profitability. Saving costs through digitization and automation is crucial, not only for the commercial viability of insurance companies, but also for ensuring that farmers can afford insurance premiums.
Problem: The old crop insurance payment system
In Kenya and the region, the lives of every farmer are affected by two seasons: the long rainy season and the short rainy season. The long rainy season starts in April and ends in July, while the short rainy season starts in October and ends in December. In the first cycle of the long rainy season in April, farmers began to buy insurance. First, they need to fill out many forms. Once the form is completed and insurance products are purchased, ACRE Africa will monitor the risk and climate until the end of the season. In short, if a weather event occurs during the period when the farmer is purchasing insurance, he can only pay after the next season has begun. However, if there is no insurance, farmers will suffer economic losses and it will be difficult to continue farming into the next season.
Solution: BIMA PIMA from ACRE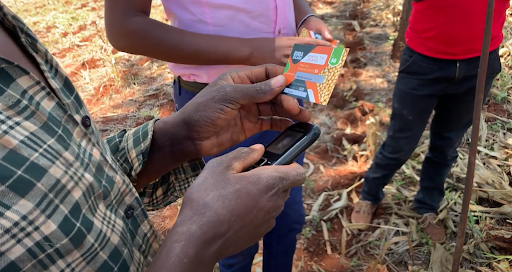 A farmer in Embu County, Kenya, is using the scratch card in the seed bag he bought to activate his insurance policy. (Thanks to Acre Africa for providing this photo)
BIMA PIMA product, which literally means small installment insurance, is one of ACRE Africa's latest insurance solutions.It is with Ethereum, His team developed a decentralized insurance platform on Ethereum.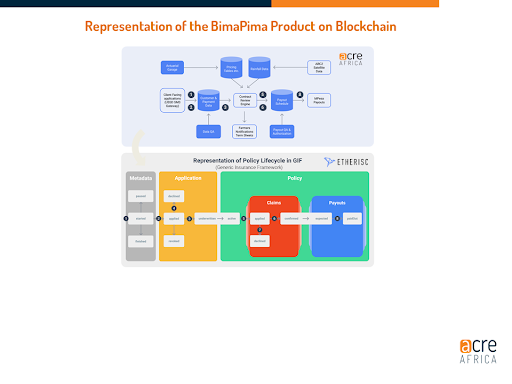 Farmers seeking BIMA PIMA insurance first purchase the seeds of the season from cooperative agricultural suppliers. Each bag of seeds contains a scratch card with a unique registration code. For the pilot, we included the price of basic insurance in the seed price, but farmers can also purchase additional insurance through the mobile payment network (M-PESA).
When planting seeds, farmers will use SMS/USSD to activate the insurance policy.During the USSD activation period, their location and phone number and all other relevant details obtained from the registration code (such as crop type and amount covered) will be passed to xDai chain; This process is called triangulation and leads to the automatic creation of new strategies. The farmer immediately receives a text message informing him/her that the policy has taken effect.
The alternative system monitors and compares the actual and historical weather data that triggered the approval of the claim. Here, expenditures are not based on human assessments, but based on pre-defined "windows" or stages of the entire farming season (i.e., germination, vegetation, flowering, excessive rainfall). As long as the collected weather and climate data meet the standards agreed in the insurance policy, the claim will be approved; then, the farmers receive payment during the ongoing season instead of waiting until the end of the season as before. After the insurance policy is triggered, farmers will receive a text message and can check the status of their insurance policy through their mobile devices.
Our goal is to win the confidence of every farmer by providing more relevant information, faster payments, lowering the cost of insurance products, and accountable audit trails.
First payment via blockchain
Earlier this year, we paid our first payment to Samuel, a farmer who purchased corn seed insurance!
As of today, there have been 511 mid-season expenditures totaling 75,295 Kenyan shillings (670 US dollars), and 4,021 end-of-season expenditures totaling 309,939 Kenyan shillings (2,766 US dollars).
Next obstacles and steps
Although this new system solves existing challenges and improves existing systems in Kenya (and soon in Tanzania and Zambia), it is not without problems. We are still a long way from a completely "decentralized" insurance solution. For example, although technically feasible, it is not yet fully automated. One of the main challenges remains to shorten the processing time for claim approval. Just like in the old payment system, the claim will eventually sit on someone's desk, waiting for approval. Similarly, parties outside of our project (for example: insurance companies, reinsurance companies that support us in processing claims, regulatory agencies) also have their own independent systems, but there are still some aspects that become bottlenecks because they require a manual approval process. Looking to the future, we will share relevant policy-related information with all stakeholders. By directly accessing a system through a custom dashboard, we imagine that each stakeholder accesses a source with a complete audit trail.
I hope that our BIMA PIMA insurance product can serve as a successful model to restore the much-needed trust between farmers and insurance providers. I started to learn computer science to help my community, and from a very young age I realized that technology was needed to make a country like Kenya a part of the global market. I am very happy to be one of them and work hard for the future millions of family farmers and billions of people in developing countries to experience the beginning of decentralization.
We hope you can continue to work with Scholarship Program, If you want to get in touch with Fellowship@ethereum.org via email, we would be happy to hear from you.Finally, connect Benson on Twitter, Or reach out Contact other researchers online, Or learn more about the program.