Since 2019, we have been supporting UNICEF's Crypto Fund We are very excited for regular contributions Our recent donation is alsoToday, I want to share our common journey story, recognize some of the achievements of our partnership, and talk more about the next things.
Why and how we started
in a Previous blog post, I explained how emerging economies represent the great opportunity of Ethereum, and talked about the importance of asking yourself "Who can benefit most from Ethereum?"
People living in emerging economies represent the billions of next-generation users and developers of Ethereum. Then the next question should be: "How do we reach the next billion?"
The Ethereum project started as a group of people with a common mission, and now the project has attracted hundreds of thousands of like-minded developers and researchers. This kind of like-mindedness is the force that unites the community, but we should admit that it also creates natural barriers to entry for those who are not connected to the community. Because of this, I have always realized that the Ethereum community lacks the true diversity required to maximize the true potential of the technology and reach the next billion.
Around the end of 2018, when I met Chris Fabian from UNICEF Ventures (he now leads Giga Project, We also support). To be honest, before we met for the first time, I doubted that EF could work well with the UN team. I think they are a very traditional large organization with a traditional way of doing things. But Chris shared a list of several goals they wanted to achieve using blockchain technology, which surprised me.
He and his team understand the importance of public blockchains and the trade-offs of various protocols. At that time, I was convinced that these two groups have the opportunity to form an influential partnership. UNICEF has networks and resources that we don't have, works in more than 190 countries/regions, and cooperates with different stakeholders including NGOs, companies, startups, and governments. They are also looking for new ways to change and embrace innovation from within.This is how our cooperation started, and from there we started to support UNICEF CryptoFund, which is Announced and launched On Devcon 5 in October 2019.
Chris Fabian and I were on Devcon 5, which coincided with Halloween. The UNICEF Ventures team spent a sleepless night with the headquarters to coordinate the launch of CryptoFund.
UNICEF Crypto Fund
In view of our cooperation, EF naturally became the founding donor of UNICEF CryptoFund. CryptoFund is the first tool in the entire United Nations ecosystem (possibly the entire public sector) to receive, hold, and use cryptocurrency. It invests in supporting technology startups in developing countries that aim to improve the lives of children. These startups receive code Coins and use them without being converted into legal tender, with the goal of developing open source digital public products. So far, 2,527 ETH and 8 BTC have been contributed, and 18 investments have been made.
At the same time, CryptoFund is trying to solve a key challenge facing organizations such as UNICEF-transparency and accountability. Traditionally, donors and other stakeholders have not been able to obtain a real-time, tamper-proof view of how charities spend their money.In the case of CryptoFund, every transaction made by CryptoFund can be Its website With corresponding links containing details of immutable transactions on the blockchain browser.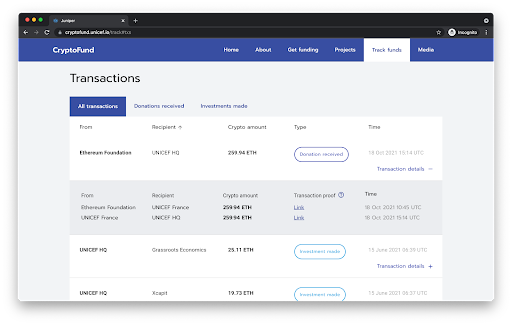 In the picture above, you can see the most recent donations from EF-first received by UNICEF France and then transferred to UNICEF headquarters.
The CryptoFund website is hosted by Juniper, A set of open source tools developed by UNICEF Ventures to help manage digital assets. Any public sector organization that wants to use tokens in a user-friendly and transparent manner can try Juniper Networks immediately.
Many of the 18 startups that received CryptoFund investment also use blockchain-based technology in their products. We will continue to support them through seminars and connect them with outstanding talents and projects in the Ethereum ecosystem stand up.You can read more about these startups developing open source digital public products here.
The impact of this project cannot be overemphasized-not only on the humanitarian sector and government, but also on the world. It raises awareness and allows the public to see how large, mature international organizations can adopt public blockchains in an efficient and transparent manner. I have heard a lot of positive feedback and I really hope that other traditional organizations such as UNICEF can also use these public products with more confidence.
What's the next step?
While we continue to support CryptoFund and its portfolio companies in developing digital public products in emerging economies, the cooperation between EF and UNICEF is also evolving.Through new EF Scholarship Program, We are supporting two exciting developments. An EF researcher representing the CryptoFund portfolio company is working with many countries and municipalities in Latin America to use blockchain in digital identities and verifiable credentials. Another EF researcher is working with Giga to explore the intersection of Internet connectivity and blockchain, a joint initiative of UNICEF and the International Telecommunication Union (ITU) to provide Internet to every school in the world .
I am very happy to share more information about their work in the coming months and look forward to our continued cooperation with UNICEF to expand our reach to the next billion people. In the meantime, you can find them on Twitter: UNICEF Innovation (Manage CryptoFund), UNICEF France (This is the first national committee to use encryption), and Gigabit.
Finally, I would like to express my deepest gratitude to Sunita Grote, who leads UNICEF Venture Fund, and Christina Rose Lomazzo, head of UNICEF Blockchain (as well as Mehran Hydary, Cecilia Chapiro and others who participated in this journey together) And thanks to Chris Fabian, he went all out for these important steps.